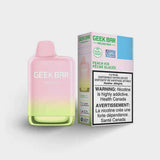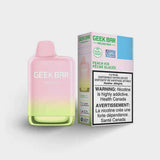 Geek Bar Meloso Max-Peach Ice
Taxes and shipping calculated at checkout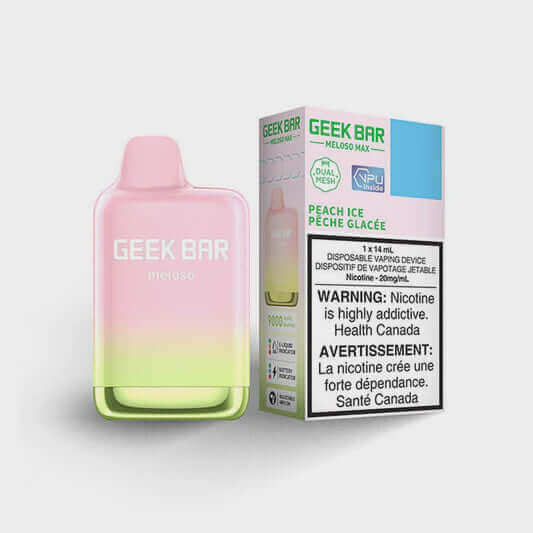 Description Geek Bar Meloso Max-Peach Ice
Geek Bar Meloso Max 9000
Geek Bar Meloso Max: Peach Ice
Embark on a vaping journey like no other with the Geek Bar Meloso Max 9000, the pinnacle of disposable vape technology. This device is tailored for those who seek exceptional flavor and vapor production in a convenient, easy-to-use format.
Key Features of Geek Bar Meloso Max 9000:
Superior Flavor and Vapor Production: Enjoy unparalleled vaping with advanced Dual Mesh Coil System, delivering a clean and rich taste with every puff.
Extended Puff Count: Immerse in a long-lasting vaping experience with up to 9000 puffs, perfect for vapers seeking longevity and satisfaction.
Generous E-Liquid Capacity: Equipped with a substantial 14ml e-liquid reservoir, ensuring you have ample vape juice for extended use.
Rechargeable 600mAh Battery: Fitted with a powerful 600mAh battery, rechargeable for continuous vaping pleasure.
Adjustable Airflow Feature: Tailor your vape with adjustable airflow, offering control over your vaping experience.
Portable and User-Friendly: The device's convenient size and user-friendly design make it an ideal choice for both new and experienced vapers.
The Geek Bar Meloso Max 9000 stands out as a top-tier disposable vape, offering the perfect blend of convenience, performance, and durability. It's the ideal choice for vapers who demand quality without compromise.
Thank you for shopping with us