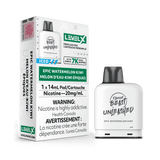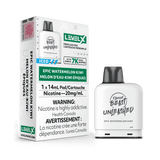 Level X Flavour Beats - Epic Watermelon Kiwi
Taxes and shipping calculated at checkout
We are running low on stock
We are running low on stock
Description Level X Flavour Beats - Epic Watermelon Kiwi
Level X Flavour Beast Pod
Epic Watermelon Kiwi - Waves of green kiwi and wonderous watermelon unite to give a tangy long-lasting flavour.
High-Capacity Vape Pod: Experience up to 7000 puffs with our Beast Pod, ideal for extended use.
Eco-Friendly Reusable Battery: Save more and reduce waste with our innovative reusable battery format.
Ergonomic Anti-Slip Grip: Enhanced with a soft, anti-slip grip for comfortable and secure handling.
Adjustable Airflow Pod: Customize your vaping experience with easy airflow adjustment - twist or flip the pod for high or low airflow.
Comfortable Mouthpiece Design: Designed for comfort, the mouthpiece ensures a smooth vaping experience.
Efficient Mesh Coil: Features a 1.0 Ω Mesh coil for superior flavor and vapor production.
Compact Size with Large Liquid Volume: Measuring 45 x 24 x 65.25 mm, it holds an impressive 14 mL of e-liquid.
Package Contents: Includes 6x Level X Flavour Beast Pod, each with a 14mL capacity.
Device Specifications
Tri-Color Battery Indicator Vape: Stay informed about your battery life (Green: 70%-100%, Blue: 30%-70%, Red: <30%).
Durable and Powerful Battery: Equipped with a long-lasting, high-capacity 600 mAh rechargeable battery.
Type-C Fast Charging: Comes with a Type-C cable for quick and efficient charging.
Consistent Power Output: Enjoy a steady 13W power output for a consistent vaping experience.
Rapid Charging Capability: Benefit from the quick charge feature with the Type-C USB input.
Portable Vape Device: Its compact size (45 x 24 x 35.75 mm) makes it ideal for on-the-go use.
Thank you for shopping with us